THE PRODUCT
EO: FRENCH LAVENDER BODY OIL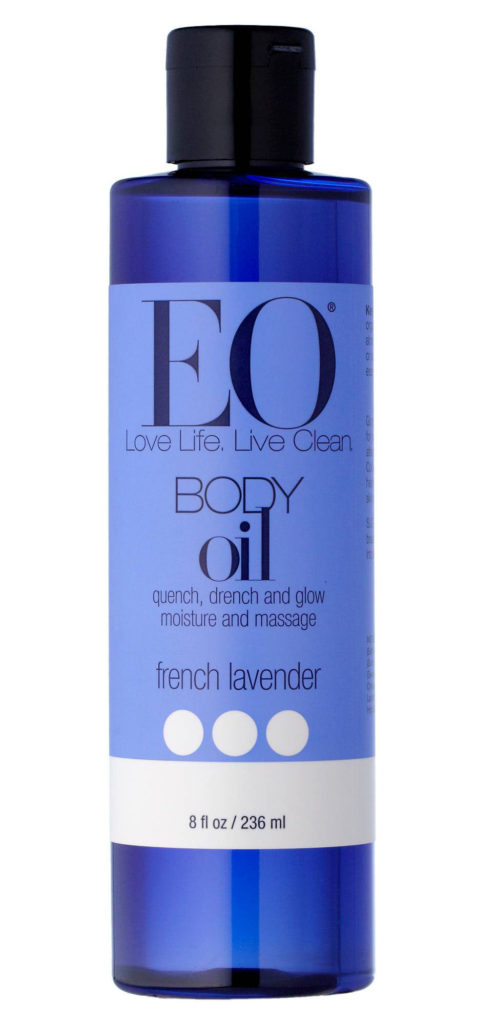 In the last year or so, I've spent the better part of my time on the West coast – all due to consulting projects. And in the midst of scouring for the best farm-to-table California fusion food or discovering some of the best natural landscapes (second to Thailand and Turkey) – I found that my skin had somehow developed a love/hate relationship with the climate.
Yes – California is sunny.
Yes – California rarely encounters humidity.
And yes – California can be very drying!
So much so that this born and raised East Coast girl has (in the last year) had to completely retool and find a new beauty regime.
I'm not talking just my face. I'm talking about face, body, and hair.
When it came to facial skincare, it was not simple – but my face seemed to absorb or the wonderful serums and facial oils that I could get my grubby hands on!
Hair, I'll definitely have to touch on that topic in another post. Not only did I have to endure dry climate – but I also had the misery of dealing with hard water. But again, this discussion will be better addressed (in length) in another post.
Ok, here is the meat of it all.
My body.
Growing up all along up and down the East Coast (by way of Massachusetts, Florida, New York, Georgia, and Ohio – phew!), I never had an issue of having dry skin. In fact, quite the opposite – my skin was always naturally moisturized. Meaning, I was always a walking oil slick. This remained consistent throughout my childhood and well into adulthood. So until I lived along the "left side" or West Coast – dry skin seemed like such an insane idea to me.
When I started to "need" something more potent than just your run of the mill store bought lotion – I knew I needed to escalate the situation. This was when I was on the hunt for the coveted "moisturizing body oil" that didn't have "ridiculous" ingredients. I figured, lotions have oils – why not skip the middleman and go straight to the good stuff! Find a product that I could apply and felt amazing after and not like a continual oil slick, all day every day!
To say it was an easy task – is definitely incorrect. It was REALLY difficult. But somehow I stumbled upon the EO French Lavender Body Oil.
To say I'm in love with this stuff is really putting it mildly. This is a game-changer – at least for me.
My skin has been glowing ever since I've used this wonderful product. And my dry, cracked elbows and heels which NEVER seemed to get enough lotion – are finally buoyant and thoroughly moisturized.
So of course, after trying this for a while – I had to share and give a review to my readers!
THE INGREDIENTS
THE CLAIMS
Ok, the claims as detailed on the EO website.
" Vitamin E is blended with Jojoba, Sunflower, and Sweet Almond oils to deeply nourish skin and improve radiance where it's needed most. The timeless scent of French Lavender soothes the senses while this oil restores softness to the skin."
"ESSENTIAL OILS: The timeless scent of pure, Organic Lavender Essential Oil soothes and calms the senses.
BOTANICAL EXTRACTS: Sunflower Oil restores radiance and Vitamin E is high in essential antioxidants while working together to promote skin elasticity.
BEAUTIFUL SKIN: Sweet Almond and Jojoba Oils penetrate deeply, helping to support soft and smooth skin."
Ok, let's parse this baby to its bare bones based on its ingredients:
| Substantiated | Claims | What's the Problem? |
| --- | --- | --- |
| 👍🏻 | Vitamin E is blended with Jojoba, Sunflower and Sweet Almond oils:  Oil restores softness to skin | None |
| 👍🏻 | Sunflower oil: Nourish skin | None |
| 👍🏻 | Sunflower oil:  Improves and Restores radiance | Improved radiance in my skin |
| 👍🏻 | Sunflower oil:  Vitamin E promotes elasticity | Improved radiance in my skin |
| 👍🏻 | Almond oil and jojoba oil:  Helping to support soft and smooth skin   | None |
| 👍🏻 | French Lavender:  Soothes and calms senses | None |
| 👍🏻 | Almond oil and jojoba oil:  Penetrate deeply | None |
SKIN TYPE & USE
Normal, oily, combination, dry, sensitive skin.
Since this includes essential oils – I would recommend doing a patch test
THE GOOD & THE BAD
I could not find a discernible reason to hate (or dislike) this product.  In fact, for my skin, it seemed to deliver good results in providing luminosity and rejuvenating some of my dry patches (knees, elbows, legs, and hands).
However, I can see how some could be sensitive to the essential oils that might be added to this fragrant body oil. So if you find yourself typically sensitive to oily products or essential oils – please proceed with caution.
THE UGLY (PRICE)
EO French Lavender body oil ($14.99)
Not so ugly – but glorious!
DO I NEED THIS?
Whether you've stumbled upon this site trying to make the educated decision to purchase or not to purchase the EO French Lavender body oil (or any body oil) to add to your overall routine – I would recommend giving this a go. It has transformed my dry and cracked skin.
I cannot begin to even tell you what it's done to my very cracked feet and heels. I've tried petroleum jelly and thick body butters to soften those tough bottom soles of my feet – yet it never seemed to do the job.  Until this wonderful body oil entered my life.
So far, I've used it countless times – applying a good portion every time after my showers; and I have hardly made a dent in the amount. It's a good size. So for the price point, product amount, and all the lovely packed ingredients – I think this is worth the investment if you are looking for worthy body oil.
DUPES
For the price point and ingredients punch – EO's French Lavender body oil is a force to be reckoned with. Yes, there are similarly priced body oils. Yes, there are body oils with similar ingredients. But none (at least during my research) compared to the value and formulation of this body oil.
In fact, most good body oils were within the price range of $50-140+. Yikes!
However, I did include some affordable options just in case you might be allergic to the EO French Lavender body oil.   But depending on the reach of your wallet – you can certainly go more extravagantly.
S.W. Basics Lemongrass Body Oil
Burt Bees Lemon & Vitamin E Bath and Body Oil
HOW TO MAXIMIZE THE BENEFITS?
The best way to utilize this luxurious body oil is to be regimented about the application. I set this indigo colored bottle right near the shower. I try to apply this fragrant liquid immediately after a shower at least 3-4 times a week as need be – if not more.
ARE THE CLAIMS BACKED BY SCIENCE?
All of the included ingredients have properties, which provide evidence that supports the product claim. They all provide emollient capabilities – yes. Each applicable ingredient has supported evidence to calm the senses, restore elasticity, smooth, and provides radiance – yes, yes, yes, and yes.
All in all, if you are in search of a lotion alternative to your moisturizing regimen – look no further. Body oils are a wonderful option for providing immediate nourishment to your skin's health and luminosity.   And with most body oils "infusing" essential oils and carrier oils into their formulations, why not just cut the middleman and use oils themselves? Since adding this step to my body care treatment and seeing the progress of the resultant benefits – I'm definitely curious to evaluate and explore the rest of the EO Products line.
Until my next review!