THE CELEBRITY
CELEBRITY: ALICIA KEYS
Here is our science-based skincare review on everyone's favorite piano playing phenom and musician, Alicia Keys.  In 2016, Alicia Keys shocked the world with her "no makeup" stance.  She challenged the norms of celebrity culture which expected women (and men) to appear flawless through layers (upon layers) of makeup for the sake of media.  Fast forward three years later, and at nearly 40, Alicia Keys has remained steadfast and strong with maintaining that makeup-free look. Whether its genetics, early awareness to swear off makeup, or simply good skincare regimen; we were curious and are here to provide our science-based review on Keys' beauty products.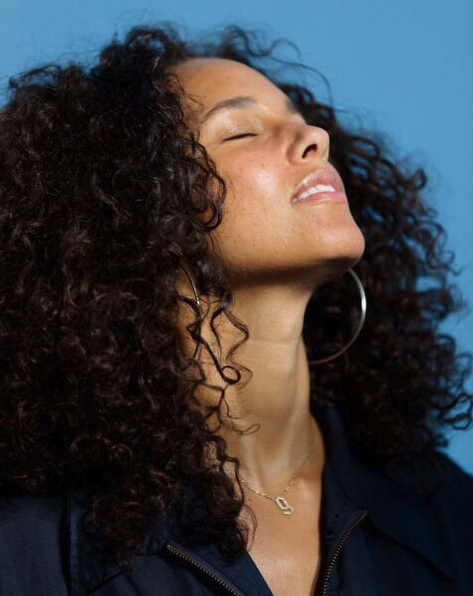 In her 2016 editorial piece to the world, Alicia Keys: Time to Uncover, Keys unearths a revealing moment regarding her insecurities as a woman within the media industry.  In the song, Girl Can't Be Herself, Keys points to the specific lyric which was not only poignant but very personal:
"In the morning from the minute that I wake up
What if I don't want to put on all that makeup
Who says I must conceal what I'm made of
Maybe all this Maybelline is covering my self-esteem"
Faced again with her insecurities, Keys was spontaneously photographed, sans makeup for an upcoming album.  And through the process transformed to the makeup-free Keys, we know today.
Full disclosure, much of our determination of what products Alicia Keys uses stems from a recent video from her YouTube channel and other sourced interviews/videos:
But before we begin the product reviews, let's provide a brief rundown on Keys.
Current Age group: 35-45
Skin Type: Unknown (Theory: Combination)
Net Worth: $100 million (2020 estimate)
Budget: $$$$
The NOs: Unknown
The YESs:  Hydration (water), aromatherapy, facials, exercise (boxing, kickboxing, yoga, weight training, running, swimming), healthy diet, acupuncture, massage, and meditation. 
The team:  Dotti (makeup artist) and Nichola Joss (aesthetician).
Treatments:  Use of a jade roller (to tighten the skin, bring the blood to the surface) and cucumbers (to draw the heat out of the skin and bring the blood to the top).
Ok, let's delve into whether these products are providing correct claims substantiation to Alicia Keys and our curious readers! 
Our Review…
We will look at each product currently available and review the following:
Product:

Name of product

Ingredient(s):

Full ingredient list with identified active ingredient(s) 

Claims:

Stemming from one or many active ingredients.

Transparency: 

Whether the claims (if any) are substantiated

Transparent:
Not transparent:
Partly transparent (transparent but may lack some components):

Bottom Line: 

Our overall opinion based on our research.   
Alright then, let's look at the products!
THE PRODUCTS
DO I NEED THESE?
We did a rough tally of the products she used within her video and it came to ~$230, with no individual products exceeding $55.  I would be as bold to say that's quite an affordable range of products represented.  
Outside of our inability to determine why sweet almond oil and aloe vera were mentioned as key ingredients of the Au Lait Body Butter, yet clearly were not included in the ingredient list; most of the beauty items were reasonable products.  Albeit very very general in any specific claim.
These products were not novel by any stretch of the imagination.  And therefore, we can comfortably say that there are certainly alternative options (or dupes) out there.  
I think the main question to ask is: whether the key (see what we did there?) to Keys' radiant skin as a result of these specific products?  Our answer is likely no. Most of these skincare products and treatments were quite general in nature.   And the key is mainly the regimen itself, and not necessarily any one specific product or brand.
Will you actually replicate Alicia Keys' buoyant and glowing skin by using the same skincare products?  A keen individual would be able to realize that replication is not just the solution. There are many factors that are integral to achieving beautiful skin.  We've said this before and it bears repeating; genetics plays a critical role in how one ages.
And Keys is certainly benefiting from that genetic game of life!  
But if you were curious, we are happy to see that the blend of products represented does not necessarily break the bank!
ARE THE CLAIMS BACKED BY SCIENCE?
Overall the set of products presented had general claims.  Nothing novel or outlandish. In fact, most of the claims were mainly aromatherapeutic in nature.
However, there were two products that seemed a bit questionable with respect to claims substantiation: Liv by Knutek Klar Toner and The Scottish Fine Soaps Company Au Lait Body Butter.
With the Klar Toner, the folks at Liv by Knutek failed to connect or provide clear scientific evidence to any specific key ingredient (or even a combination of ingredients) that would warrant the following claim:
"The potent ingredients gently hydrate skin while triggering youthful collagen and elastin formation and supporting the flexible links between cells for firmer, plumper, more lifted skin."
With the Au Lait Body Butter, the folks at The Scottish Fine Soaps Company attribute both sweet almond oil (prunus amygdalus dulcis) and aloe vera (aloe barbadensis) for its texture and scented claims, yet these two ingredients were not included in the ingredient list:
"…beneficial ingredients like Shea Butter, Sweet Almond Oil and Aloe Vera, Au Lait creates a rich, creamy texture and delicate, cotton-fresh scent."
But my advice is always the same:  To take heed to what can be drawn from some of these botanical and synthetic ingredients.  And really understand whether these statements truly fit.  
It isn't a new concept for brands to increasingly propose claims or make outrageous assumptions that may or may not be drawn from specific research-based sources.  It's one thing to tout that a product performs generalized benefits, and it's another thing to attribute its unique purpose is based on a formulated ingredient rooted in science.  In short, always be careful and be savvy with what you purchase.
Until my next celebrity review!