THE GUIDE
THE ULTIMATE SCIENTIFIC GUIDE TO HAND SANITIZERS
One of the issues that I grapple with regarding commercially available products, is whether it is factual and scientifically sound.  More specifically, in the days of post-coronavirus (COVID-19 or SARS-CoV-2) infection, do hand sanitizers really work? More importantly, if plagued with the possibility of a shortage (um, hi!), how do we protect ourselves from the infection? This is our new normal and these are important questions that we are currently facing, unfortunately. Here is our guide to the science behind hand sanitizers.
The number one question I know that you all are asking is:
How do I know I have the coronavirus?"
First off, if you have been infected, symptoms may appear 2-14 days after exposure:  
Fever
Cough
Shortness of breath/breathing difficulties
These three main symptoms are aligned between the following medical/health/science organizations:
It is important to remember that there are still many unknowns and that new research is constantly being unearthed minute-by-minute.  So here are some points that I think need to be addressed with what we DO know: 
Questions (

) and Answers (

):

:  Are we still trying to understand how this truly spreads from person to person?


:  Yes.

:  What do we know NOW about how the virus spreads?


:  Based on the current CDC guidance, there are two things to understand:  
1) The virus is thought to spread mainly from person-to-person, between people who are in close contact with one another (within ~6 feet).  
2) The virus may be transferred through respiratory droplets produced when an infected person coughs or sneezes.  These droplets can land in the mouths or noses of people who are nearby or possibly be inhaled into the lungs.
It is also important to note that a study published in the New England Journal of Medicine concluded that there was a potential for persons infected with COVID-19 (SARS-CoV-2) to shed and transmit the virus while asymptomatic (not showing symptoms).

:  Is there a way to test for COVID-19?


:  Yes, typically by RT-PCR (FDA and CDC).  But due to limited resources, testing sites and kits are still needed.

:  Is there a vaccine or treatment available?


:  At the time this is posted, no such vaccine exists.  Only supportive treatment is available.

:  Are we close to a vaccine?


:  Some pharmaceutical/biotech companies have identified potential candidates or have stated that "already developed" vaccines may be targeted for COVID-19.  But no strong clinical evidence to substantiate any of these claims yet at the time of this post.

:  If we identify a vaccine candidate when will it be available to the public?


:  Due to clinical trial testing timelines, a potential vaccine may not be available until 2021 (at the earliest) even if it was FDA accelerated.  Then there is also the impact and strain on manufacturing sites to produce the vaccine. 

:  Does the biological age of a person matter?


:  The data suggests that age does not matter.  If you are healthy, contracting the virus may be spread to your exposure to elderly folks.  And the young are NOT immune based on incoming data.

:  What does it mean to "flatten the curve"?


:  Flattening the curve gives health and science professionals more time to build capacity, develop treatments; and ultimately, a vaccine.  
Therefore, how do we flatten that curve?  What do we do to protect ourselves and avoid being exposed or potentially exposing the virus to others (whether high risk or not)? 
Wash your hands vigorously with soap and water for at least 20 seconds.
If soap and water are not available, use hand sanitizers (with at least 60% alcohol).  Completely coat and cover all surfaces of your hands until dry.
Avoid touching your eyes, nose, and mouth with unwashed hands.
Practice "social distancing"
Practice self quarantining even if you do not exhibit symptoms but suspect that you've been exposed.
In the event that you need to self-quarantine, prepare with necessary supplies.
Be aware of your local surroundings and/or local country guidance

.

:  How long can COVID-19 (SARS-CoV-2) survive outside the host?


:  Based on a study published in the New England Journal of Medicine on March 17, 2020;  the virus can remain viable in aerosolized form for 3 hours!  
It can remain viable per the following hours/days and surfaces:
Copper: 4 hours

Plastic:  72 hours

Stainless steel:  72 hours

Cardboard: 24 hours
Ok, now back to the cleansing or hand sanitizing products.  My selfish interest in researching the science behind hand sanitizers is a three-parter in our post-apocalyptic coronavirus hysteria world due to the following:
There are no commercially produced hand sanitizers available online or in-stores.

Hand sanitizers that remain on the shelves are labeled as "alcohol-free" yet claim to sanitize.

How to make homemade hand sanitizers using ingredients at home.
Before we tap into the truth behind hand sanitizers and perform a review of varying products that are likely out of stock, we need to understand the scientific basis behind what works and what doesn't.
Important science-based hand sanitizing questions and answers when looking to buy or make do-it-yourself (DIY) options:

:  Can I use non-alcohol hand sanitizers?


:  This is a big fat no if you want to thoroughly inactivate the enveloped coronavirus.  If a product claims to provide sanitizing capabilities without any alcohol in its ingredient list, think carefully before purchasing.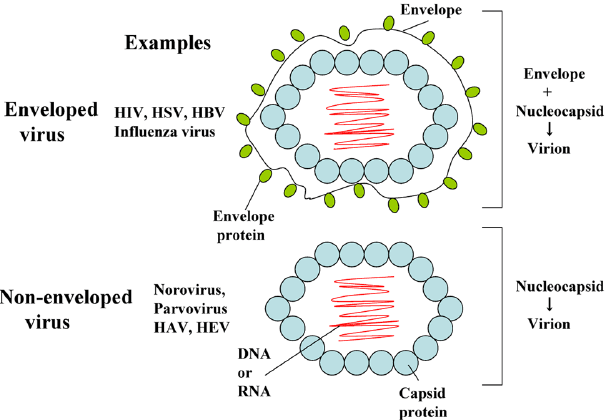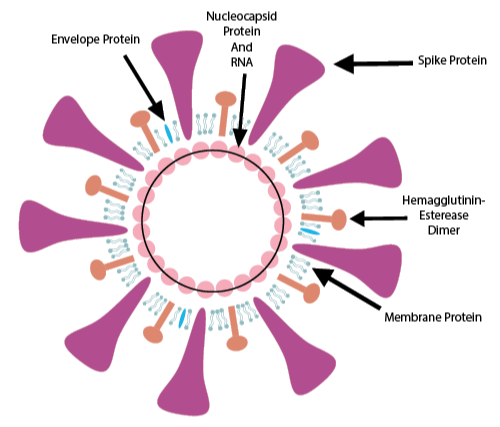 :  What type of alcohol can I use?


:  Ethyl alcohol (ethanol), isopropyl alcohol, and denatured alcohol (alcohol denatured or specially denatured/SD).

:  How much alcohol content do I need to thoroughly inactivate and sanitize effectively?


:  It is recommended to use at least 60-95% alcohol-based hand sanitizers for proper antiseptic capabilities.  It is also important to note that the percentage of alcohol is relative to the total product.  NOT 60%+ alcohol AND THEN added with other ingredients.  
It is important to note hand sanitizers have poor antimicrobial activity against non-enveloped viruses.  Thankfully, we know that COVID-19 IS an ENVELOPED virus.

:  Can I use alcohol from my liquor cabinet?


:  Unless you are able to acquire drinking alcohol that is at least 160 (80% alcohol) -180 (90% alcohol) proof (and good luck finding that), any off-the-shelf beverage will be ineffective at attaining a 60%+ alcohol content when mixed with other ingredients.

:  Can I just use hydrogen peroxide?


:  Hydrogen peroxide can inactivate bacterial spores (that may be in your ingredients, equipment, bottles) but is not enough alone to be an effective antiseptic.  You would need to include alcohol still.

:  What about basic soap and water?


:  Use of soap and water is still a reliable means of sanitizing.  Waterless hand sanitizers are an effective mode of inactivating the virus when soap/water isn't readily available (i.e. portable option). 

:  What DIY recipes do you recommend?


:  There are a lot of floater recipes out there.  And quite frankly, too many to review and provide any form of science-based recommendations.  But I would suggest reviewing the WHO Guidelines on Hand Hygiene in Health Care: First Global Patient Safety Challenge Clean Care Is Safer Care. 
WHO recommends two formulation combinations with the following concentration:
Ethanol 80% (v/v), glycerol 1.45% (v/v), hydrogen peroxide (H2O2) 0.125% (v/v)

Isopropyl alcohol 75% (v/v), glycerol 1.45% (v/v), hydrogen peroxide 0.125% (v/v)
Ok, our Review…
Overall, it would be impossible to provide a complete review of all brands and hand sanitizers currently out in the market.  Therefore, I've reviewed some selected brands and websites which looked at the following: 
Brand:  Name
Product:

Name of product

Ingredient(s):

Full ingredient list.

Alcohol Content (60%+):

Actual % alcohol

Claims:

Stemming from the alcohol content or focused ingredient

Transparency: 

Whether the claims (if any) are substantiated

Transparent:
Not transparent:
Partly transparent (transparent but may be lacking some components): 

Bottom Line: 

Our overall opinion based on our research.  
Ok, let's look at the products!   
THE BRANDS AND PRODUCTS
THE GOOD & THE BAD
In the wake of the pandemic, an upsurge of identifying and finding proper hand sanitizers has become quite the challenge.  
Who would've thought that it would be incredibly difficult to purchase hand sanitizers and sanitizing agents?!  
I was of the camp that just never used hand sanitizers – mainly due to my sensitivities to the alcohol.  I learned a long time ago to avoid products like Purell® (which is considered the hand sanitizer 's "gold standard") based on past dermatological reactions.
Fast forward to a post-coronavirus world, and now having to endure the skin reaction consequences in order to ward off any infectious viruses.  So tread very lightly for those who suffer from sensitive skin – this may be irritating and slightly drying due to the obvious alcohol ingredient.  Thankfully, formulations have changed in the last 10+ years.  There are options! 
DO I NEED THIS?
If this post was published any other time pre-coronavirus, I would say that the need to carry or use water-less (alcohol-based) sanitizers would seem over the top.  Now that we live in a world that is post-coronavirus, a pandemic of this magnitude has taught us that there is no such thing as over the top.  
So whether you were (or always have been) slightly OCD (obsessive-compulsive disorder) with regards to sanitization, this post-coronavirus world has most likely (or most definitely) transformed you (and all of us) into full-blown OCD cleaning fiends now.
So keep your distance from those that you love (or hate), keep washing those hands, carry sanitizing products if you must commute/travel, and practice proper sanitizing techniques.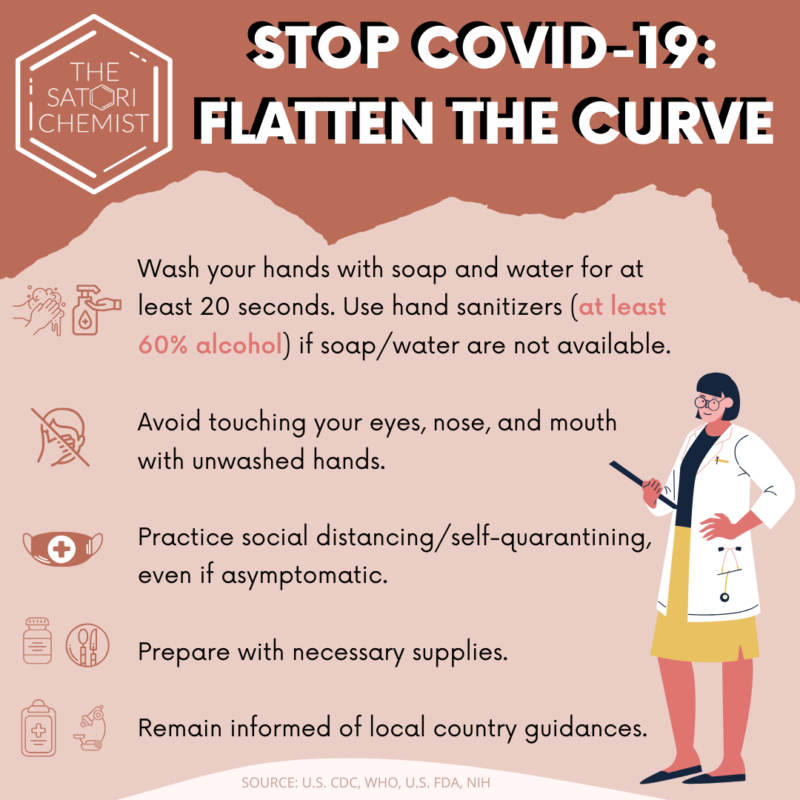 ARE THE CLAIMS BACKED BY SCIENCE?
Overall, the science behind how much alcohol is needed within a formulation to provide effective inactivation of viruses isn't novel.  However, the science behind COVID-19 is ongoing, at best. So if we simply look at COVID-19 as a typical enveloped virus and apply the proper inactivation techniques, theoretically we should be able to eliminate any traces of the virus on surfaces.  
As it stands, data and evidence are constantly changing and being re-evaluated as scientists and clinicians work to understand COVID-19.  
So, how do we inactivate a virus? 
Traditional techniques to inactivate enveloped viruses per WHO:
Pasteurization

Terminal dry heat

Vapour heat

Solvent/detergent

Acid pH
In addition, a 2012 study evaluated the efficacy of enveloped/non-enveloped virus inactivation after treatment of bovine bone with 70% ethanol, 4% sodium hydroxide, and gamma irradiation.  All treatments were found to be very effective in virus inactivation, with all viruses were at undetectable levels during each process.
Just another study proving the effectiveness of using at least 60%+ alcohol concentration to properly sanitize and inactivate any enveloped virus, such as COVID-19.
Overall, please be mindful and considerate of one another. We are ALL in this together.  I believe it is in all of us (in 2020 and beyond) to rise above it all and look at this dire situation to not only STOP the spread of the virus but continue to spread LOVE for one another.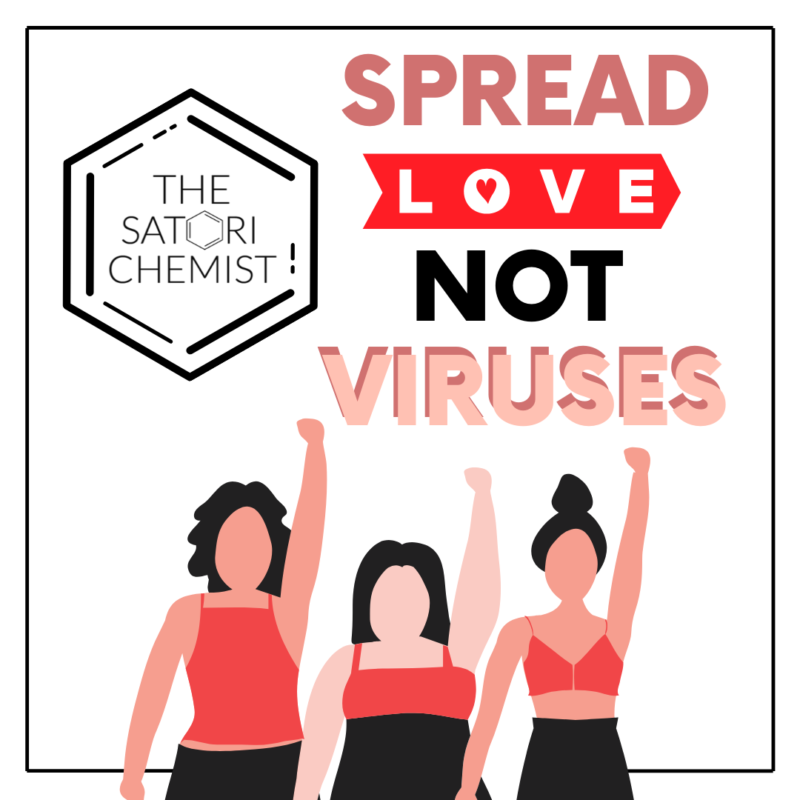 Stay safe out there and until my next review!