THE GUIDE
THE ULTIMATE SCIENTIFIC GUIDE TO SUNSCREENS
This has been a long time coming; the topic of sunscreens. How a person classifies this very distinct sector of beauty (or cosmetic drug) can unveil so much! Where a person lives, their lifestyle, skin type, skin pigment, and genetic disposition to skin cancer; these are some of the elements that factor into types of photo protecting ingredients, level of SPF, and (of course) how one selects their sunscreen. As such, I've wanted to tackle this topic and provide as much science-beauty education on what you need to know to make those hefty decisions when purchasing your sunscreen. Here is our ultimate scientific guide to sunscreens.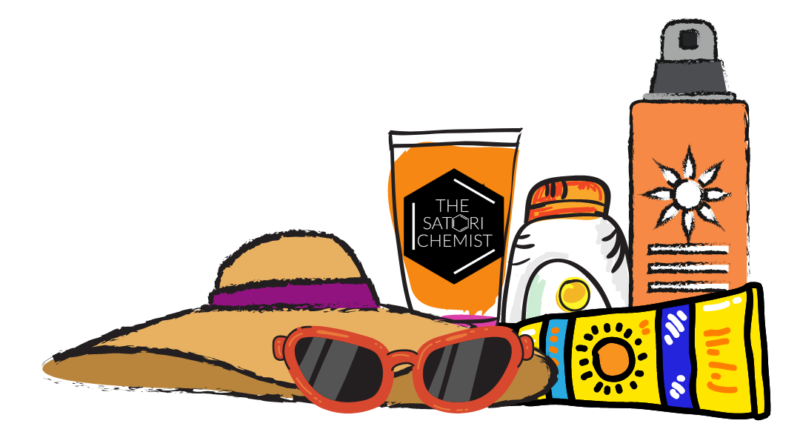 So sit back, grab a cup of coffee or tea, and let's get started!
You might be thinking, just tell me which sunscreen ingredients/compounds are best for me.
If only it could be that simple.
We briefly touched on ultraviolet radiation (UVR) such as ultraviolet A (UVA)/ultraviolet B (UVB) and a host of sunscreen ingredients in previous posts but we've never provided a lengthy Rolodex of information. And these days, there seems to be a myriad of discussions (and fear-mongering) regarding the benefits of using (or not using) sunscreen.
Whatever camp you fall under, it's hard to argue with the science behind sunscreen use. As our exposure to the sun increases with age, our need to protect our youthful appearance becomes increasingly important. Hence, photoprotection of the skin becomes paramount.
Look, we know there are so many sites and portals that explain the basic rundown on sun protection and product recommendations. This post will evaluate some sunscreens that are currently out in the market as it relates to claim substantiation. But more importantly, we will tap into some of the marketing associations and myths that come with sunscreen buying these days.
But before we dive into sunscreen ingredients and SPF levels, we need to understand the basics.
Questions and Answers (

):
Ok, our review…
Overall, it wouldn't be impossible to provide a complete review of all brands and all sunscreens from every continent. In fact, based on cosmetic and drug regulations, each country provides their own restrictions and nuances. For instance, what is restricted or banned in Australia may not be the same as within the US (and vice versa). And of course, what about reviewing face sunscreens versus body sunscreens? Well, the list would never end.
Therefore, I've reviewed some selected products (focusing on face sunscreens) which looked at the following:
Product: Name of product
Active Ingredient(s): Full active ingredient list.
Active Ingredient %: Whether the active ingredients meet % concentration limit.
Sunscreen Type: Physical, chemical, or both
Inactive Ingredient(s): Full inactive ingredient list.
SPF (15-50): Actual SPF.
UV Protection: UVA/UVB/Broad Spectrum
UV Protection Claim: Whether the active ingredients match the UV blocking claims.
Teaspoon Rule: Is there enough for the teaspoon rule? More than 50+ mL.
Directions and Reapplication Instructions: Whether instructions meet the recommended teaspoon rule and reapplication time.
Claims: Stemming from UV protection from the active sunscreen ingredients.
Transparency: Whether the claims (if any) are substantiated

Transparent: 👍🏻
Not transparent: 👎🏻
Partly transparent (transparent but may be lacking some components):

Bottom Line: Our overall opinion based on our research.
These products are marketed as face sunscreens.
Ok, let's look at the products!
THE BRANDS AND PRODUCTS
THE GOOD, THE BAD & THE LAYERING
One of the interesting things to note is that the majority of the sunscreens suggest to apply the product liberally into the skin. While this seems like the logical way of applying sunscreen, it actually is incorrect and quite vague. You should be patting it onto your skin.
Pat, pat, pat…
Let me explain.
When we rub the product into our skin, we actually remove a good portion from the skin itself. In fact, a 1991 study concluded just that! Therefore, this patting technique will not only prevent unintentional removal of the product but also assist in correctly applying that essential thin and even layer.
Then a 2006 study evaluated the effect of sunscreen application by measuring free-radical protection. The study looked at three forms of application: thin film "off" the skin, thin film in contact with the skin, and directly rubbed into the skin. The study concluded that sunscreen users were inadequately protected against UVA-induced radical damage when utilizing the "rubbing" technique.
If you are applying other products (such as moisturizers, serums, or makeup) in addition to your sunscreen, here is a good rule of thumb to follow when layering:
Layer your skincare (serums and moisturizers) first. Remembering to apply thin to thickest or water-soluble products first.
Pat on sunscreen next.
Then pat makeup on (if applicable).
So what about reapplication?
Overall, your best bet is to use a sunscreen that can be delivered via a spray for reapplication. This would ensure that you aren't removing previous sunscreen or makeup; while still adding additional protection.
You might be asking: "So I've been applying and rubbing sunscreen all wrong this entire time?!"
In the end, some sunscreen protection is infinitely better than absolutely no protection at all. And a thin layer that isn't exactly perfect is far better than not applying any layer at all.
DO I NEED THIS?
Yes. Simple and to the point.
If you have any desire to protect your skin from the daily effects of sun damage, then incorporating sunscreen into your skincare routine is a must! And don't be fooled by the cooler seasons, sun protection should not stop even when daylight/sunlight hours are shorter.
Either way, the choice is always yours.
ARE THE CLAIMS BACKED BY SCIENCE?
Overall, the science behind sunscreen use and their added benefits to protecting our skin has been thoroughly studied. This isn't a novel concept or technology. We can safely say that scientist and researchers are aligned with the following:
Sunscreen protects from the damaging effects of UV radiation.
Protection from both UVA and UVB is generally recommended.
Using a generous amount (teaspoon rule) will provide the most effective means of maximizing the sun protection factor (SPF) product number which calculates the % UVB absorption.
Both chemical and physical sunscreens absorb UV and convert it to heat. And physical sunscreens reflect about 5% UV.
Always compliment your sunscreens with wearing protective clothing.
When it comes to the development and innovation of sunscreen ingredients, the US is definitely the tortoise in this situation. Slow and steady. But in this case, slow and steady won't win the race when skin protection and developing sunscreen technologies are concerned.
If US brands are going to market their products with promising power as well as sustainability, there needs to be a concerted push to demand that US regulating bodies move to the future.
How do we expect our health care and scientific professionals to formulate innovative products when the ingredients themselves maybe 20 years behind? With this in mind, I have been looking toward Korean, Japanese, and Australian brands for innovative sunscreen products. Just something to think about.
Until my next review!