THE GUIDE
THE ULTIMATE SCIENTIFIC GUIDE TO SUNSCREENS
This has been a long time coming; the topic of sunscreens. How a person classifies this very distinct sector of beauty (or cosmetic drug) can unveil so much! Where a person lives, their lifestyle, skin type, skin pigment, and genetic disposition to skin cancer; these are some of the elements that factor into types of photo protecting ingredients, level of SPF, and (of course) how one selects their sunscreen. As such, I've wanted to tackle this topic and provide as much science-beauty education on what you need to know to make those hefty decisions when purchasing your sunscreen. Here is our ultimate scientific guide to sunscreens.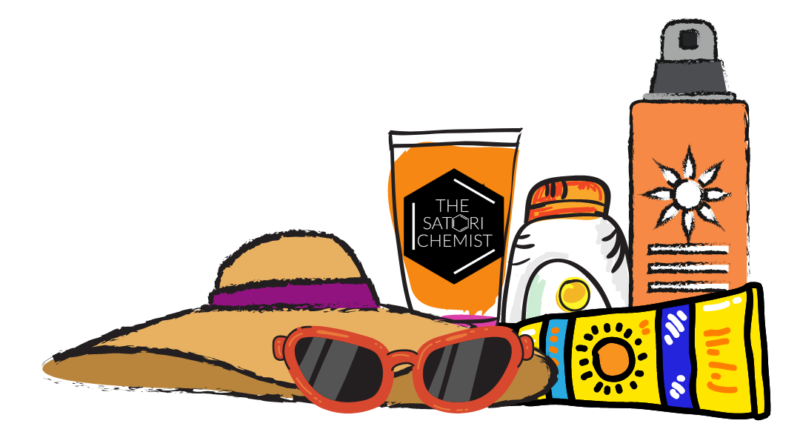 So sit back, grab a cup of coffee or tea, and let's get started!
You might be thinking, just tell me which sunscreen ingredients/compounds are best for me.
If only it could be that simple.
We briefly touched on ultraviolet radiation (UVR) such as ultraviolet A (UVA)/ultraviolet B (UVB) and a host of sunscreen ingredients in previous posts but we've never provided a lengthy Rolodex of information. And these days, there seems to be a myriad of discussions (and fear-mongering) regarding the benefits of using (or not using) sunscreen.
Whatever camp you fall under, it's hard to argue with the science behind sunscreen use. As our exposure to the sun increases with age, our need to protect our youthful appearance becomes increasingly important. Hence, photoprotection of the skin becomes paramount.
Look, we know there are so many sites and portals that explain the basic rundown on sun protection and product recommendations. This post will evaluate some sunscreens that are currently out in the market as it relates to claim substantiation. But more importantly, we will tap into some of the marketing associations and myths that come with sunscreen buying these days.
But before we dive into sunscreen ingredients and SPF levels, we need to understand the basics.
Questions and Answers (

):
What is sunlight?

: Well, sunlight emits a series of energy waves (electromagnetic waves) and is composed of solar radiation which includes ultraviolet (100-400nm), visible (400-780nm), and infrared (780-4000nm).
What's the difference between UVA, UVB, and UVC?

: UV radiation (UVR) is further divided into three regions of the electromagnetic radiation spectrum: UVA, UVB, and UVC.
The main difference that you want to remember is that UVA causes signs of aging and UVB is what causes sunburns/burns.
UVA = Aging and UVB = Burns.
Simple.
UV Types
Wavelength Range (nm)
Earth's Ozone Absorption
What does it do?
Glass Penetration

UVC


100-280


100%

Most harmful but blocked by the ozone layer and atmosphere.


Blocked by the ozone layer


UVB


280-320


90%

Causes sunburns, inflammation, and skin cancer.
Direct DNA damage.
Helps in the production of vitamin D in the skin.


No


UVA


315-400
UVA1 (340-400)
UVA2 (320-340)

0%

Causes aging, pigmentation production, and skin cancer.
Penetrates deep into the skin layer.
Indirect DNA damage.


Yes
What do I need to look for in terms of UV protection?

: The Earth's ozone layer has been shown to absorb 100% of UVC and roughly 90% UVB, so it is fairly clear that protecting oneself from UVA (at a minimum) is recommended.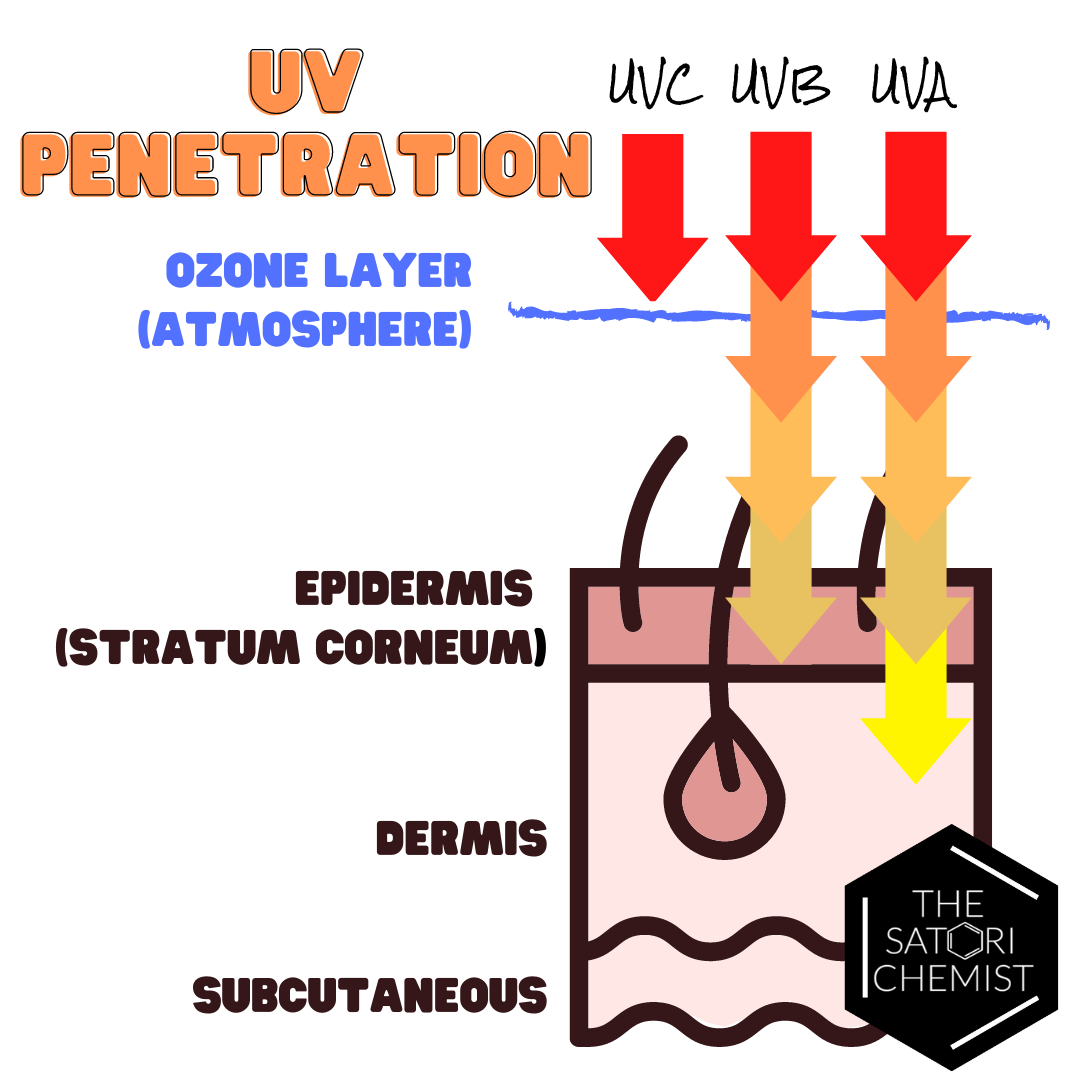 But what about UVB protection?

: Protection from UVB is an interesting topic. UVB is required in the natural absorption of vitamin D.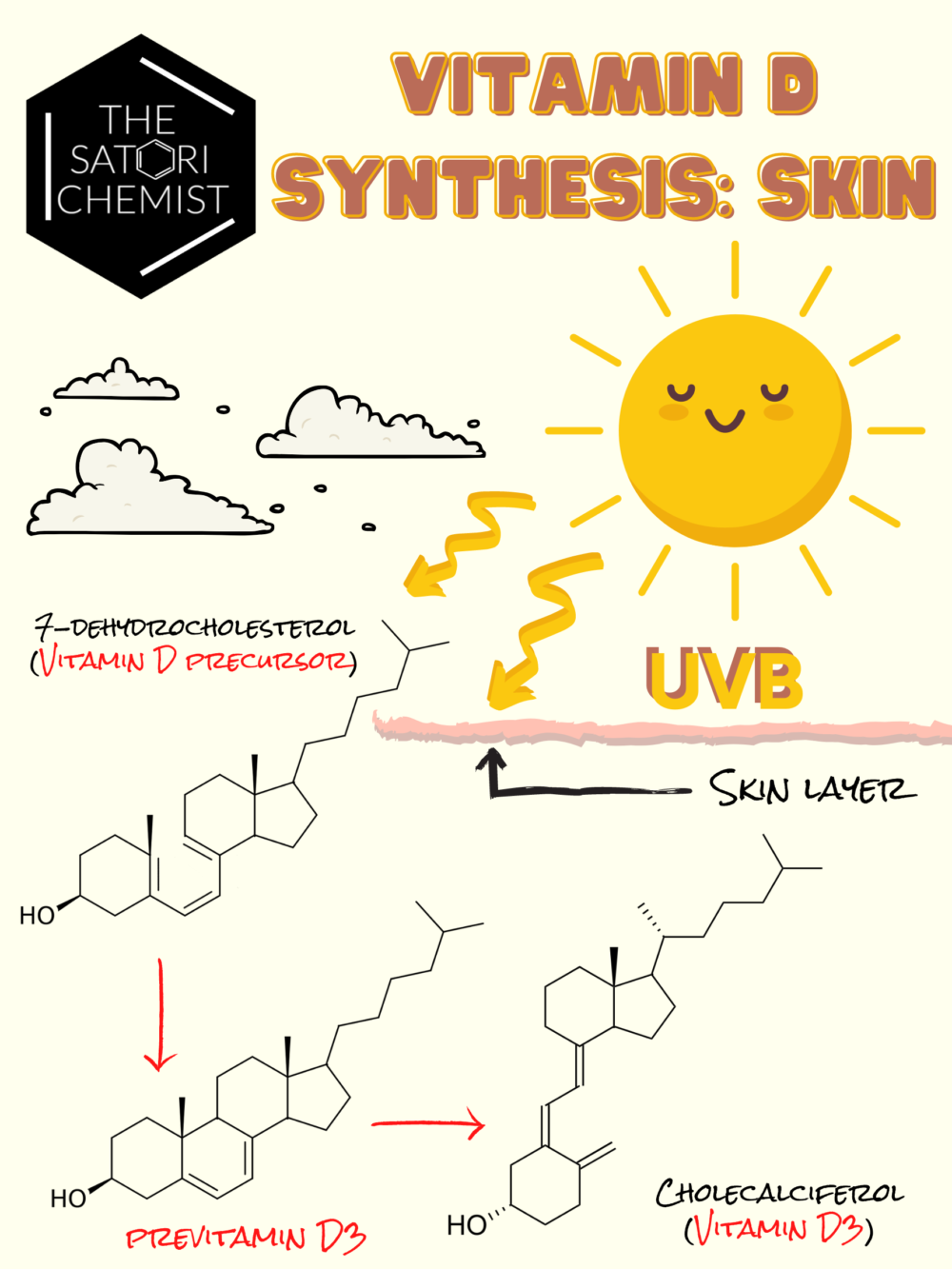 Vitamin D (a fat-soluble vitamin) acts like a steroid hormone and is metabolized in the liver and kidneys which is important in regulating calcium and phosphate for metabolic maintenance and skeletal health. We need this for a host of reasons. Bone health and mental health to name a few. It can be ingested via diet but most importantly, it can be produced in the skin endogenously as vitamin D3.
I won't go into the whole vitamin D deficiency discussion as this could be its own topic alone.
What does broad spectrum mean?

: Broad spectrum means it is designed to protect from both UVA and UVB.
What is the UVI?

: UVI stands for the ultraviolet index. The UVI is a numerical rating scale related to the fluxes of biologically active UVR that induce erythema (skin redness) formation on human skin. It is often recommended to use the UVI as an educational tool to warn individuals in protecting themselves from the sun's harsh UV rays.
If you are curious about what the UVI is in your local area (the US only) – go here.
What is SPF?

: SPF stands for sun protection factor with a numerical range between 5-50, with a general recommendation to incorporate at least SPF 30 or greater.

The SPF level is calculated based on how much time it takes for a person to produce one minimal erythema (skin redness) dose (MED) on protected skin when 2 mg/cm2 of sunscreen is applied divided by how much time it takes for that same person to produce one MED on unprotected skin. MED is the lowest time interval or dosage of UV light.
In other words, it is the ratio of the amount of UV required to burn protected skin (with sunscreen) as compared to the amount required to burn on unprotected skin (without sunscreen).
SPF=minimal time to burn (with sunscreen)
minimal time to burn (without sunscreen)
So applying a sunscreen with SPF 30 means that it is 30 times more likely to protect your skin from burning as compared to unprotected skin (no sunscreen).
So the higher the SPF the higher the effectiveness?

: It's more like the higher the SPF, the more effective the product is in preventing sunburn.
What does this mean?
The SPF level is correlated to the measure of UVB absorption. The formula to calculate the percent that your applied sunscreen absorbs or filters out UVB levels is based on the following:
UVB Absorption % = 100 – (100/SPF)
For example, an SPF of 30 means that it is 30 times likely for your sunscreen to filter out 96.7% of UVB before burning when compared to no sunscreen application.
| SPF Level | UVB Absorption (%) |
| --- | --- |
| 15 | 93.3 |
| 20 | 95.0 |
| 25 | 96.0 |
| 30 | 96.7 |
| 35 | 97.1 |
| 40 | 97.5 |
| 45 | 97.8 |
| 50 | 98.0 |
| 75 | 98.7 |
| 100 | 99.0 |
So should I purchase a sunscreen with a high SPF?

: The higher the SPF number the more effective its % UVB absorbance becomes as compared to a much lower SPF. For example, with SPF 15 (93.3%) versus SPF 50 (98.0%), there is a 4.7% difference.
But here's the caveat:
There is little % UVB absorbance difference between levels as you move up in SPF level. Meaning, there's not much of a difference between SPF 45 (97.8%) versus SPF 50 (98.0%), a 0.2% difference.
If we dive a bit deeper, one clinical study suggested that SPF 70+ sunscreens provided clinical benefits when applied; meeting minimal SPF levels recommended for skin cancer and photodamage prevention. Whereas sunscreens with SPF 30 or 50 may not produce sufficient protection. In addition, there are clinical studies that suggest SPF 100+ sunscreen is significantly more effective in protecting against sunburn than SPF 50+.
If SPF is an indicator of protection against sunburn by UVB, what about measuring protection from UVA?

: Currently, there hasn't been a clear scientific consensus on how to calculate UVA absorption percentage that is similar to that for UVB.
Are there different types of sunscreen ingredients?

: Sunscreen ingredients are typically identified as physical (inorganic) or chemical (organic) sunscreens.
What is a physical sunscreen?

: Physical sunscreen (sometimes noted as mineral or inorganic sunscreen) ingredients are physical blockers that reflect, scatter, and/or absorb UVR. Physical sunscreens are made up of metal and oxygen. These include zinc oxide (1 zinc + 1 oxygen) and titanium dioxide (1 titanium + 2 oxygen).
| Physical Sunscreens | Chemical Formula | UV Blocking | USA Concentration Limit (Up to %) | Issues and Use |
| --- | --- | --- | --- | --- |
| Zinc oxide | ZnO | | | Photostable |
| Titanium dioxide | TiO2 | | | Photostable |
What is a chemical sunscreen?

: Chemical sunscreens are everything else outside of zinc oxide and titanium oxide. Chemical sunscreens absorb high-intensity UVR and are sometimes noted as organic ingredients.
In chemistry, "organic" based compounds are generally identified as carbon-based or contain carbonyl (C=O) groups. Chemical sunscreens are generally compounds with aromatic rings linked to a carbonyl (C=O) group. An aromatic structure has a ring-like structure and is typically a benzene ring. A carbonyl group is a functional group composed of a carbon atom double-bonded to an oxygen atom.


Chemical Sunscreens
Chemical Formula
UV Blocking
USA Concentration Limit (Up to %)
Issues and Use

Aminobenzoic acid (PABA)


C7H7NO2


Photo and contact allergen.


Avobenzone


C20H22O3


Can degrade Octinoxate.
Photo-unstable.


Cinoxate


C14H18O4


N/A


Ensulizole


C13H10N2O3S


N/A


Homosalate


C16H22O3


Increases the effect of other UVB blockers.


Octisalate


C15H22O3


Increases the effect of other UVB blockers.


Octinoxate


C18H26O3 


Photo-unstable.


Octocrylene


C24H27NO2


Can increase the SPF formula.


Oxybenzone


C14H12O3


Contact or photo contact dermatitis.
Photo-unstable.


Padimate O


C17H27NO2


N/A

Which sunscreen gives me that white cast?

: That would be titanium dioxide which typically leaves a stronger white cast as compared to zinc oxide by comparison.
So if this bothers you, reach for chemical sunscreen or zinc oxide formulated products.
What about no-cast or invisible physical sunscreens?

: It is physically impossible for a physical sunscreen to be completely clear or "invisible".
Both titanium dioxide and zinc oxide are white powders in their raw material stage. And the only way to prevent that white-ghostly cast is formulating the following ways:
Micronizing (grounding up) the crap out of it to below 100 nanometers (0.1 micrometers). Thus, a nanoparticle.
Or formulating at a very very low concentration.
Don't get me wrong, some brands have found ways or means of mitigating that unwanted white-cast by providing:
Tinted options
Utilizing trademarked or proprietary blends that aren't micronized to smithereens and don't leave a horrendous ghostly cast.
Opting to use zinc oxide.
Still, if you have even the slightest bit of pigmentation/melanin or a darker complexion, it is safe to say that most "invisible" marketed physical sunscreens will likely leave some form of a cast.
Do I need to be worried about nanoparticles in physical sunscreens?

: The quick and dirty answer to that is no. In order for physical sunscreen to be formulated in products, they have to be micronized (ground up into fine particles). These micronized particles are what defines physical ingredients as nanoparticles (small particles), at the nanometer scale.
Studies have found that titanium dioxide and zinc oxide nanoparticles don't penetrate beyond the stratum corneum (upper layer of the skin).
Is there an advantage between selecting physical (inorganic) versus chemical sunscreens (organic)? Or do I have to choose?

: Honestly, it boils down to preferences based on skin irritation/sensitization, broad-spectrum protection, and whether you fancy that typical white sunscreen cast. Each type provides varying advantages and both work by absorbing UV.
Both physical and chemical sunscreens have been formulated in products, so if you genuinely have no aversion to skin irritation or the white cast effect, look for sunscreens that include both as an option.
Do physical sunscreens work faster than chemical sunscreens?

: There seems to be this myth that chemical sunscreens need more time to absorb in the skin as compared to physical sunscreens.
The truth is, both are effective straight out of the bottle. Both absorb UV light and convert it to heat. And the time to absorb is generally calculated in with instructions to apply your sunscreen about 15 mins before sun exposure.
I want a natural, non-chemical sunscreen, which do I choose?

: First, both physical (inorganic or mineral) and chemical (organic) sunscreens are chemical in nature. In fact, some physical sunscreens require heavy processing to micronize (break down) its large particle size in order to provide a more finished formulated product.
There are natural botanicals that have been shown to provide mild photoprotective qualities, but studies are limited based on equivalent potency as compared to physical/chemical sunscreen options.
Which sunscreens are best at blocking UVA and UVB?

: If you want protection from longer wavelengths of UVA (such as UVA1) and UVB protection, reach for zinc oxide or avobenzone containing products.
It's important to note that avobenzone can cause sensitivities or irritation if formulated above the 3% concentration limit. If purchasing a sunscreen with UVA1 is a must, you may want to venture outside the US to look for sunscreen products as there may be more UVA1 blocking product options.
Does being indoors and glass protect me from UVs?

: As we said before, UVC is blocked by the atmosphere (ozone layer). UVB is blocked by glass. UVA can penetrate through the glass which makes UVA protection more important at a minimum.
How much sunscreen should I apply?

: This is a tricky subject as most people typically just simply slab on a tiny bit everywhere.
A published rule of thumb is to use the teaspoon rule (or 2 mg/cm2 applied to the skin) which is what is used in determining SPF levels.
The teaspoon rule is the following for each part of your body:
Face/head/neck: 1 teaspoon (or 5 mL) or roughly ¼ teaspoon for your face.
Body (arms, legs, torso): 8 teaspoons (

35-40 mL

).
Who has the patience for that?!
Let's be honest, the teaspoon rule is fine and dandy in principle, but who really sits around measuring a teaspoon amount every time they are about to apply sunscreen? In truth, the average person will likely apply half the required amount for protection which is roughly 0.5 mg/cm2.
And compound that with the fact that one or two applications would practically annihilate a typical tube of sunscreen (~50 to 80mL).
Some studies suggest applying one finger worth of sunscreen with the caveat that this will only provide half of the protection of your given sunscreen. Two fingers to approximate the necessary amount needed for full protection of your given sunscreen.
I've also seen some recommendations to estimate a "shot glass" worth of sunscreen product.
So am I screwed for being lazy in my lack of sunscreen application precision?

: The truth is there are studies that provide a correlation of specific SPF levels using a defined layer of application (in mg/cm2). With 2 mg/cm2 application providing the measured protection based on SPF levels.
So why 2 mg/cm2 application? The use of 2 mg/cm2 application provided the best reproducible standardization when it comes to studying an accurate burn rate.
In the end, we can't be expected to apply such an exorbitant amount of sunscreen each and every time.
So the best advice is to aim for a higher SPF level when possible and keep using sunscreen because some protection is better than no protection.
Can I use face sunscreen for my body or vice versa?

: If we are simply looking at sun protection, both face and body sunscreens are the same formulation with the only major difference being its size. Bottle size that is. Most body sunscreens often come in larger bottles (obviously) in order to accommodate application to the entire body.
So can you use body sunscreen for your face? The quick answer is it depends. If you don't have any major sensitivities to sunscreen products and ingredients, then by all means, save money and buy the larger body sunscreen bottles for your 2-in-1 face + body sun protection needs.
If you happen to be sensitive to sunscreen products, then I would stray away from multi-purposing it. For example, if you are sensitive to the oilier sunscreens, then be sure to purchase oil-free face sunscreen specifically.
My point is that our faces often tend to be significantly more finicky when it comes to ingredients. So, if you are those that this description seems to resonate with, then separate your face and body sunscreen protection products.
How often should I apply sunscreen?

: The general rule of thumb is to apply your sunscreen before sun exposure, not once but twice. Applying a double application of your sunscreen may mitigate any erroneous missed areas of topical protection based on a 2013 and 2018 study.
But much like the teaspoon or two finger rule, this is often an unenforced rule that most brands rarely suggest in their instructions.
Overall, it is commonly recommended to reapply sunscreen every 2-3 hours.
What about the FDA sunscreen in the bloodstream study?

: Oh yes, let's talk about this one; the US FDA overview of Shedding New Light on Sunscreen Absorption. While I won't go into the nitty-gritty fury (from the media) of this particular study which caused massive hysteria, I will summarize and provide my brief thoughts.
Important note:
The US FDA has proposed a rule for nonprescription, over-the-counter (OTC) sunscreen drug products.

Any sunscreen active ingredient that is absorbed into the bloodstream at a level of 0.5 ng/mL (or higher), would need to undergo further testing to demonstrate whether there is a risk for cancer/birth defects/adverse effects.
Ok, here are the studies:
Original preliminary

June 2019

study:

Effect of Sunscreen Application Under Maximal Use Conditions on Plasma Concentration of Sunscreen Active Ingredients: A Randomized Clinical Trial

(Clinical Trial

NCT03582215

)

Study Specs (Part 1):

Volunteers: 24
Timeline: July 2018 through August 2018
Application:

2 mg/cm2 of sunscreen was applied to 75% of body surface area
4 times per day for 4 days

30 blood samples were collected over 7 days from each participant.
4 randomized sunscreens evaluating 4 active ingredients (6 subjects per sunscreen)

Cream (2% Avobenzone; 10% Octocrylene; 2% Ecamsule)
Lotion (3% Avobenzone; 4% Oxybenzone; 6% Octocrylene)
Spray 1 (3% Avobenzone; 6% Oxybenzone; 2.35% Octocrylene; 15% Homosalate; 5% Octisalate)
Spray 2 (3% Avobenzone; 5% Oxybenzone; 10% Octocrylene)

Conclusions: The preliminary (Part 1) study concluded that plasma concentrations exceeded FDA established threshold (0.5 ng/mL) for 4 active ingredients (Avobenzone, Oxybenzone, Octocrylene, and Ecamsule) in sunscreens under maximal conditions.
My take:

This was a preliminary study which means further examination was advised.
The population (or n) was small, at only 24 volunteers
The average maximum plasma concentrations exceeded the normal FDA limit (0.5 ng/mL) after 4 applications after Day 1, well over two times the concentration.
The authors even provided a warning that the study was in no indication that individuals should refrain from sunscreen use.
Continuing

Jan 2020

study:

Effect of Sunscreen Application on Plasma Concentration of Sunscreen Active Ingredients: A Randomized Clinical Trial

(Clinical Trial

NCT03582215

)

Study Specs (Part 2):

Volunteers: 48
Timeline: January 2019 through February 2019
Application:

2 mg/cm2 of sunscreen was applied to 75% of body surface area
0 hours on day 1
4 times on day 2 through day 4 at 2-hour intervals.

34 blood samples were collected over 21 days from each participant.
4 randomized sunscreens evaluating 6 active ingredients (12 subjects per sunscreen)

Lotion (3% Avobenzone; 4% Oxybenzone; 6% Octocrylene)
Aerosol Spray (3% Avobenzone; 6% Oxybenzone; 10% Octocrylene; 15% Homosalate; 5% Octisalate)
Non-aerosol Spray (3% Avobenzone; 10% Octocrylene; 10% Homosalate; 5% Octisalate; 7.5% Octinoxate)
Pump Spray ( 3% Avobenzone; 10% Homosalate; 5% Octisalate; 7.5% Octinoxate)

Conclusions: The continuing study (which encompasses both Part 1 and Part 2) again concluded that plasma concentrations exceeded FDA established threshold (0.5 ng/mL) for 6 active ingredients (Avobenzone, Oxybenzone, Octocrylene, Homosalate, Octisalate, Octinoxate) in sunscreens.
My take:

This was a follow-up to the original preliminary study.
The design of how volunteers applied sunscreen products seemed to be more relevant to a normal application regimen.
The average maximum plasma concentrations still exceeded the normal FDA limit (0.5 ng/mL).
Again, the authors provided a warning that the study was in no indication that individuals should refrain from sunscreen use.
What about chemical sunscreens and coral reefs?

: Recently, there has been quite a bit of concern for the effects of sunscreen on marine life and coral reefs. In fact, Hawaii has banned some sunscreens containing oxybenzone and octinoxate, which has been suspected to harm coral reefs.
My take on the whole issue is that we still have limited data to unequivocally establish a true correlation between sunscreen active ingredients and its total disruption to marine life and/or coral reefs.
In fact, if we really look at the nitty gritty disruption, the effect on marine life is more heavily correlated to materialism and consumerism which is the true natural disrupting culprit. If we could lower our consumption to create less waste and minimize new packaging production, that alone has significant historical data to show relief on our natural environment and planet.
But I digress…
So what is the ideal sunscreen and SPF level?

: This is definitely a question that can't be easily answered as this depends on several factors. I've said that skincare is not a "one size fits all" determination, and sunscreen definitely applies to this similar principle.
Ok, our review…
Overall, it wouldn't be impossible to provide a complete review of all brands and all sunscreens from every continent. In fact, based on cosmetic and drug regulations, each country provides their own restrictions and nuances. For instance, what is restricted or banned in Australia may not be the same as within the US (and vice versa). And of course, what about reviewing face sunscreens versus body sunscreens? Well, the list would never end.
Therefore, I've reviewed some selected products (focusing on face sunscreens) which looked at the following:
Product: Name of product
Active Ingredient(s): Full active ingredient list.
Active Ingredient %: Whether the active ingredients meet % concentration limit.
Sunscreen Type: Physical, chemical, or both
Inactive Ingredient(s): Full inactive ingredient list.
SPF (15-50): Actual SPF.
UV Protection: UVA/UVB/Broad Spectrum
UV Protection Claim: Whether the active ingredients match the UV blocking claims.
Teaspoon Rule: Is there enough for the teaspoon rule? More than 50+ mL.
Directions and Reapplication Instructions: Whether instructions meet the recommended teaspoon rule and reapplication time.
Claims: Stemming from UV protection from the active sunscreen ingredients.
Transparency: Whether the claims (if any) are substantiated

Transparent: 👍🏻
Not transparent: 👎🏻
Partly transparent (transparent but may be lacking some components):

Bottom Line: Our overall opinion based on our research.
These products are marketed as face sunscreens.
Ok, let's look at the products!
THE BRANDS AND PRODUCTS
THE GOOD, THE BAD & THE LAYERING
One of the interesting things to note is that the majority of the sunscreens suggest to apply the product liberally into the skin. While this seems like the logical way of applying sunscreen, it actually is incorrect and quite vague. You should be patting it onto your skin.
Pat, pat, pat…
Let me explain.
When we rub the product into our skin, we actually remove a good portion from the skin itself. In fact, a 1991 study concluded just that! Therefore, this patting technique will not only prevent unintentional removal of the product but also assist in correctly applying that essential thin and even layer.
Then a 2006 study evaluated the effect of sunscreen application by measuring free-radical protection. The study looked at three forms of application: thin film "off" the skin, thin film in contact with the skin, and directly rubbed into the skin. The study concluded that sunscreen users were inadequately protected against UVA-induced radical damage when utilizing the "rubbing" technique.
If you are applying other products (such as moisturizers, serums, or makeup) in addition to your sunscreen, here is a good rule of thumb to follow when layering:
Layer your skincare (serums and moisturizers) first. Remembering to apply thin to thickest or water-soluble products first.
Pat on sunscreen next.
Then pat makeup on (if applicable).
So what about reapplication?
Overall, your best bet is to use a sunscreen that can be delivered via a spray for reapplication. This would ensure that you aren't removing previous sunscreen or makeup; while still adding additional protection.
You might be asking: "So I've been applying and rubbing sunscreen all wrong this entire time?!"
In the end, some sunscreen protection is infinitely better than absolutely no protection at all. And a thin layer that isn't exactly perfect is far better than not applying any layer at all.
DO I NEED THIS?
Yes. Simple and to the point.
If you have any desire to protect your skin from the daily effects of sun damage, then incorporating sunscreen into your skincare routine is a must! And don't be fooled by the cooler seasons, sun protection should not stop even when daylight/sunlight hours are shorter.
Either way, the choice is always yours.
ARE THE CLAIMS BACKED BY SCIENCE?
Overall, the science behind sunscreen use and their added benefits to protecting our skin has been thoroughly studied. This isn't a novel concept or technology. We can safely say that scientist and researchers are aligned with the following:
Sunscreen protects from the damaging effects of UV radiation.
Protection from both UVA and UVB is generally recommended.
Using a generous amount (teaspoon rule) will provide the most effective means of maximizing the sun protection factor (SPF) product number which calculates the % UVB absorption.
Both chemical and physical sunscreens absorb UV and convert it to heat. And physical sunscreens reflect about 5% UV.
Always compliment your sunscreens with wearing protective clothing.
When it comes to the development and innovation of sunscreen ingredients, the US is definitely the tortoise in this situation. Slow and steady. But in this case, slow and steady won't win the race when skin protection and developing sunscreen technologies are concerned.
If US brands are going to market their products with promising power as well as sustainability, there needs to be a concerted push to demand that US regulating bodies move to the future.
How do we expect our health care and scientific professionals to formulate innovative products when the ingredients themselves maybe 20 years behind? With this in mind, I have been looking toward Korean, Japanese, and Australian brands for innovative sunscreen products. Just something to think about.
Until my next review!