THE GUIDE
A GUIDE TO SKIN PH AND CLEANSERS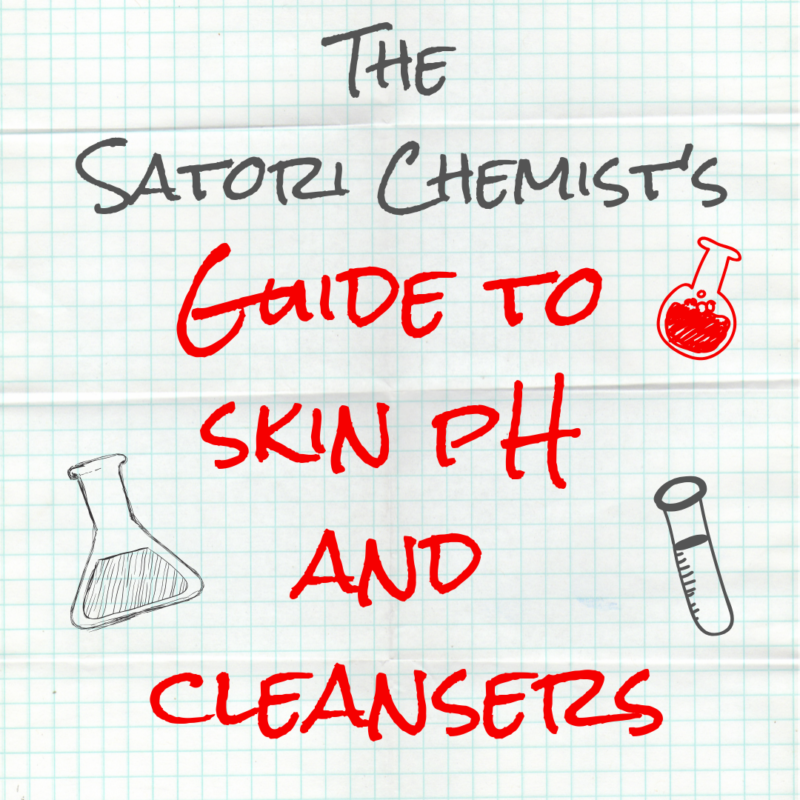 The importance or hype of understanding physiological skin pH and how it relates to selecting skincare products is a heated topic.  We spoke about skin microbiome in a previous post evaluating Mother Dirt's AO+ Mist but did we really assess the importance of skin pH and range?  These days, discussions regarding the benefits of balancing one's skin pH are rampant.  But what does that really mean? Do we even know what is the optimum pH range for our skin? Is it really important to select a cleanser that works with your skin's pH or is this marketed hype just a trend?  We wanted to uncover the real scientific truth and review whether pH really helps, hinders, or provides a placebo effect for skincare routine. So here is our guide to skin pH and cleansers.
Before we tap into ideal physiological skin pH and perform a review of varying cleansers, we need to understand the basics.  
So here are some Questions (

) and Answers (

):

:  What is pH?


:
 The term "pH" stands for the Latin terms
pondus hydrogenii
(quantity of hydrogen) or
potentia hydrogenii
(power of hydrogen).  It's a measure of the hydrogen ion (H
+
) concentration.  From this, we may be able to determine if a
water-based solution
is acidic or basic (alkaline).

:  Huh?


: 
It is the ability for a water-based solution to donate a hydrogen ion (as acidic) or absorb a hydrogen ion/donate a hydroxide ion (as basic), according to the pH logarithmic formula:   pH = -log10 [H+]

:  Can non-aqueous (non-water-based or anhydrous) solutions have a pH?


: 
If we base it on the traditional pH logarithmic formula, the answer to that is no.  An anhydrous (substance containing no water) solution or an ingredient in anhydrous solutions do not have a pH.  The pH of a solution has no significance if the water is not present as there is no hydrogen ion to donate or absorb.  However, determining the pH of an anhydrous solution would be possible by adding water to the anhydrous solution.

:   Can non-aqueous (non-water-based or anhydrous) solutions have a pH?


: 
If we base it on the traditional pH logarithmic formula, the answer to that is no.  An anhydrous (substance containing no water) solution or an ingredient in anhydrous solutions do not have a pH.  The pH of a solution has no significance if the water is not present as there is no hydrogen ion to donate or absorb.  However, determining the pH of an anhydrous solution would be possible by adding water to the anhydrous solution.

:  What is the pH scale?


:
 0 to 14

:   What do these numbers mean?


:  The lower the number, the more acidic.  The higher the number, the more basic or alkaline. With 7.0 being neutral.  These values are based upon room temperature conditions.

:  What is a pH of 4.5, 7.4, 10.6?


:
 4.5 = acidic, 7.4 = neutral, and 10.6 = basic.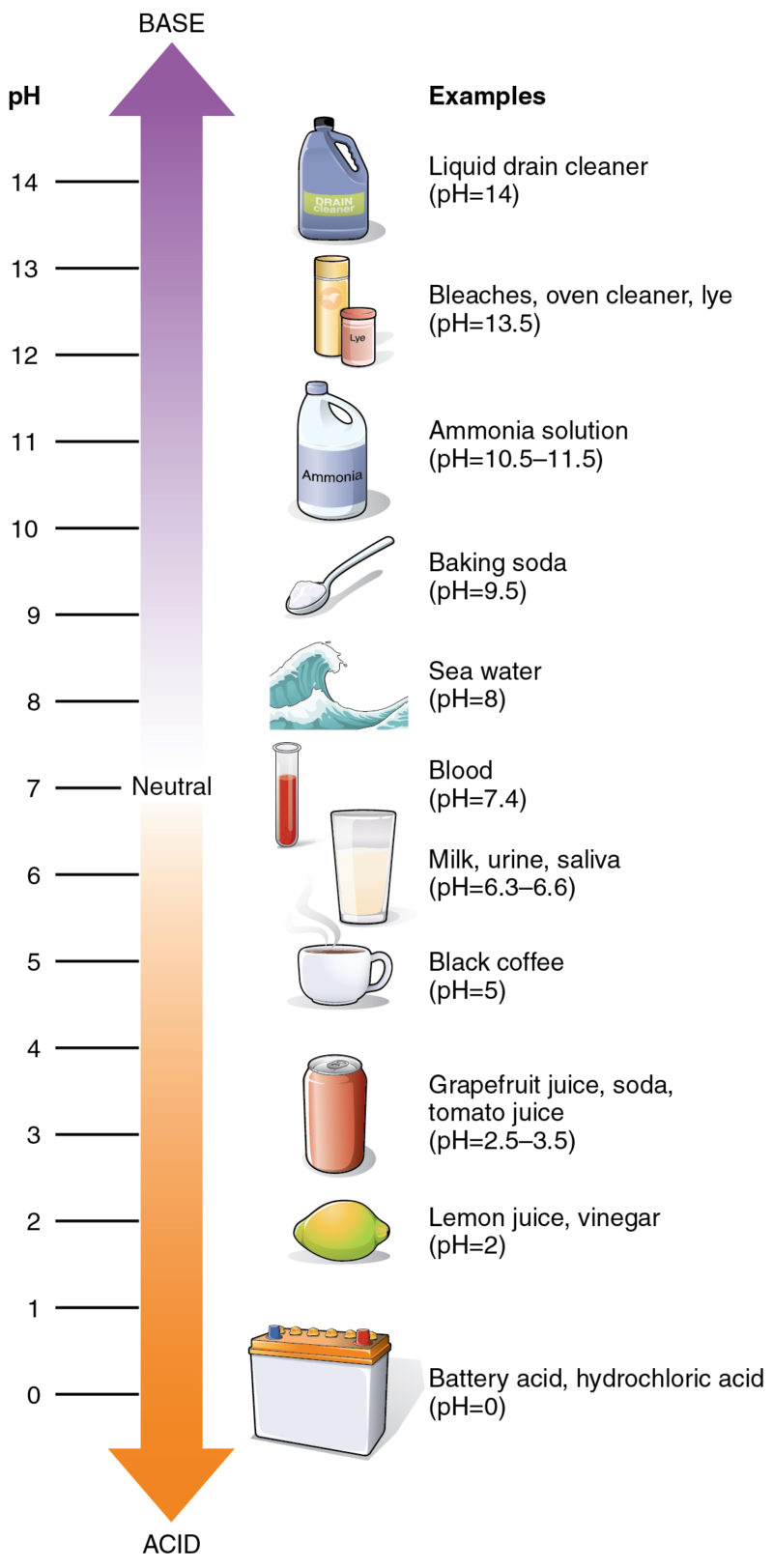 So what is the ideal physiological skin pH?  
This is definitely a loaded question, am I right?  
First, the pH of our skin is variable.  Based on varying studies, the pH can be broad and encompass a range between 4.0 (acidic) to 7.0 (neutral).  
Why does our skin pH vary?
Our skin pH is affected by numerous endogenous factors and exogenous factors.
Endogenous (Internal) Factors
Exogenous (External) Factors
Cosmetics, soaps,

detergents

Skin Irritants

Topical Antibacterials
In a 2006 study of 330 participants, the average pH was between 4.93 to 5.12.  And in general, skin surface pH is generally described at around 4.7, or to put it simply, below 5.0 with no atmospheric disturbance or affecting environmental factors.  The 2006 study also assessed skin microflora and determined the following:
pH 4-4.5 (acidic):  Keeps bacterial flora attached to the skin

pH 8-9 (basic or alkaline): Promotes the dispersal of bacterial flora from the skin.
So based on varying studies, we know that it is ideally:
Recommended to select cleansers at a physiological pH between 4.5-6.5 (or 5-5.5).  
In fact, the benefits of acidifying skin surface by way of pH showed a reduction in inflammatory responses, acne, barrier function recovery, and prevention of epidermal hyperproliferation.
But this also depends on your physiological skin goal and the camp that you follow: whether to follow the skin microflora trend or not. 
Therefore, it is important to know that most cleansing products range within the following pH:
Shampoo: 4.5-5.5

Soap: 9-10 (basic or alkaline)
And what about water?  Well, water does play a critical role.  Obviously.  
Let me explain.  
We always assume water is approximately a pH of 7.0.  But that may or may not be true. Depending on your general area, the pH of water may even be as high as 8.0.  Therefore, a slightly higher pH in water may cause your actual skin pH to be higher as well.  
Make sense?
Do you know what the pH is of your cleanser of choice?  If the pH of our skin may be the answer to a host of obvious skin problems, wouldn't it be second nature to expect brands to include the actual pH of their products on the label?  
One would think so.  
Sadly, finding the pH level or range of a product is like finding a needle in a haystack.  In fact, most brands originating from the United States and Europe rarely provide this information, unless it provides some form of beneficial scientific support in their product claims.  Case in point, the Drunk Elephant: Beste™ No. 9 Jelly Cleanser with a touted pH of 5.5.  However, if we look to Asia, there seems to be more brands and products that provide pH information within their labeling practices.  So, hopefully, the US and Europe will follow Asia's lead.
Our Review…
The transparency of adding pH to labels seems to be contingent on the brand.  At the moment, no regulatory body is requiring that companies provide a product's pH within their individual labels.  Therefore, it is up to the discretion of the brand to provide this to consumers. In my opinion, a minimum requirement of the actual pH or pH range is a must for cleansers and products used for treatments.  But I digress…
Overall, it would be impossible to provide a complete review of all brands and cleansers which provide a pH.  Therefore, I've reviewed some selected brands and websites which looked at the following:  
Product:

Name of product

Ingredient(s):

Full ingredient list.

pH (4.5-6.5):

Actual pH.

Claims:

Stemming from the pH.

Transparency: 

Whether the claims (if any) are substantiated

Transparent:
Not transparent:
Partly transparent (transparent but may be lacking some components): 

Bottom Line: 

Our overall opinion based on our research.  
Ok, let's look at the products!   
THE BRANDS AND PRODUCTS
THE GOOD & THE BAD
We knew this topic would be quite challenging.  The beauty industry is ever-changing and we are quite aware that even the catalog of reviewed products may possibly be obsolete or discontinued by the time this post is published.  
This is the nature for all our posts.  

The industry is churning out products left and right and it seems that entire lines are being jammed down our throats.  
But one thing we observed was very clear.  The regulations of the cosmetic industry are still very convoluted.  The idea of divulging a product's pH seems to be at its infancy. But the concept of testing and assuring that a formulated product meets a pH range is not new.  Check out the FDA's Cosmetic Labeling guidance for the latest information.
So, why has it taken so long for the industry to follow suit and include this one little description on a label?  
Why are brands just now featuring a product's pH or pH range?  
And to be quite honest, most of the reviewed brands which disclosed or included product pH originating from Asia (more specifically Korea) with a few originating from the US.
Also, why bother stating that a product is "pH-balanced" without actually divulging the actual pH of said product?  
The answers to these questions are still a mystery.  
DO I NEED THIS?
Do we need to know the pH of the product we are using?
This question may be answered based on what you are trying to achieve from your product.  Knowing a product's pH provides an immense power toward your skincare goal as it relates to:
Cleansing (as in the cleanser you choose)

Treatments (which require a certain pH range in order to synergistically activate or improve the ingredients at work).
If you suffer from chronic acne, the pH of your product becomes increasingly important.  In fact, a 2017 study found that patients with acne mirrored chronic stratum corneum instability and increased skin pH.  The study concluded that incorporating measures to maintain a stable pH would prove to be fruitful in achieving homeostasis of the skin acidic mantle.  In fact, acne has been found in vitro to grow at pH 6-6.5.
If you are of the camp that follows the double-cleansing process, having a low pH cleanser is definitely for you.  It is this idea that the first step in your cleansing routine would be a product that essentially strips all of the grime/makeup/oil.  The second step would involve the low pH cleanse, which would rebalance your skin's pH from the initial strip. Although truth be told I've been known to use a low pH cleanser as my first step – partly due to laziness and lack of time.
Either way, the choice is always yours.
ARE THE CLAIMS BACKED BY SCIENCE?
Overall, the science behind understanding physiological skin pH is not a new concept with the acidic nature of the skin surface first determined in 1892.  Scientists, researchers, and medical professionals have not only confirmed but aligned with the following:
Skin pH is normally acidic, ranging in pH of 4–6

The body's internal environment maintains a near-neutral pH (7–9)

Endogenous and exogenous factors affect skin pH.
Still, it was very frustrating when it actually came time to find products that not only claimed to be "pH-balanced" or "low pH" but also included the actual pH of the final formulation!  
So be forewarned.  
We believe that it's an important step for brands to be pH conscious if this is the primary focus of the effectiveness of their product.  But don't just say "pH balanced" or "low pH" and remain mysterious regarding the pH itself.  
If brands are going to talk the talk; then shouldn't brands, walk the walk?  
Until then, if the pH of a product remains important to your skincare routine, then I suppose purchasing pH strips or a self-calibrating pH meter in your arsenal might be worth the investment. 
A ridiculous measure, in my personal opinion, in order to perform a due diligence check of your product of choice.  This is something that we, as consumers, should not have to perform or confirm. But I digress…
 Until my next review!