THE PRODUCT
GLOSSIER: STRETCH CONCEALER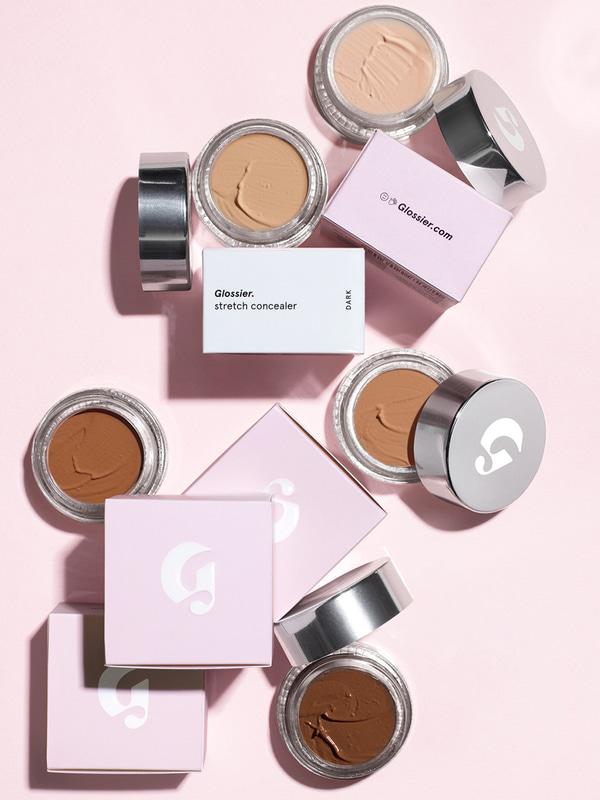 The Glossier brand needs no introduction. In the last few years, the Glossier business model and product range have been the most copied beauty company bar none. So if you are into makeup even in the slightest – chances are you've come across their product line.
Although it's targeted marketing and aesthetic seem to focus primarily on the millennial crowd, this product does have a reach beyond the young set. Glossier's business model seems to gravitate to this growing trend of inclusive beauty rather than the traditional exclusiveness that has often plagued the industry.
And while their marketing tactics seem to focus on this inclusive beauty trend, how do their products hold up with respect to claims and ingredients?
Because in the end, it's about how the product performs and what it includes – am I right?
Ok, so to get back to the Glossier Stretch Concealer.
I know a lot of folks will want me to comment on the other products in their growing line. And that IS coming. But for now, I'll focus on the concealer.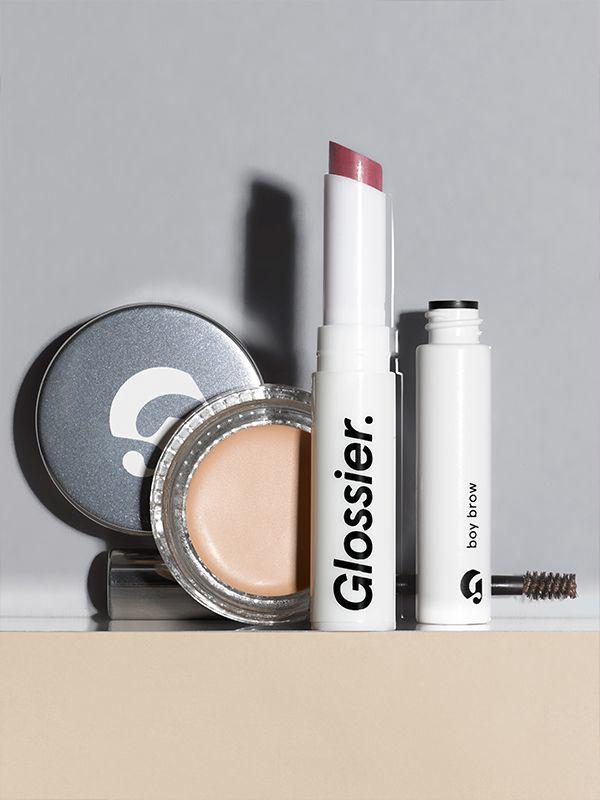 Like most readers, I was curious. Curious at the effective nature of a concealer which offered all these promises and claims. Claims that the product was a "makeup that lets skin look like skin."  So I went out and purchased Glossier Phase 2 Set – which included the Stretch Concealer, Boy Brow and Generation G matte lipstick (both highly touted products).  
I tried the concealer. And let me just say – I get it. It provided just the right amount of coverage for my slightly sallow under eye area. It brightened and covered other troubled spots throughout my face to my amazement.  
For me, most concealers were either too thick or completely wrong for my skin tone. And in the end, I rarely used concealers in my makeup regime.
The Stretch Concealer, however,  changed things. Much like the RMS Beauty Buriti Bronzer, this product served a multipurpose function. I could use it to simply conceal but then build up the coverage so that it acted as a potted tinted concealer. Or even a light coverage foundation. Full disclosure, I've always been a light foundation wearer.  In fact, the Laura Mercier Oil-Free Tinted Moisturizer has always been my go-to. So, I've always been fond of medium to sheer coverage for every day moderate wear.  
After the Glossier Phase 2 Set, I've since purchased the Perfecting Skin Tint, the highly pigmented Cloud Paints (in all available colors), and MORE Generation G matte lipsticks. I'll post about the lightweight foundation, cloud paints, lipsticks, and more Glossier products later as they all certainly deserve evaluation.
Ok, back to the concealer.  Let's begin…
THE INGREDIENTS
UPDATE:  Since this post, Glossier has reformulated and expanded their shades from the original 5 (Light, Medium, Dark, Deep, Rich) to 12 (G1-G12).  Each new shade is slightly modified with the following ingredients:
THE CLAIMS
Ok, the claims as detailed on the Glossier Stretch Concealer website.
OLD CLAIMS: "A traditional concealer sets to a stiff, flat, dry finish—a dead giveaway that you're wearing it. Ours is a new type of concealer with elastic micro waxes that move with your face instead of caking on top of it, and nourishing oils that give a dewy, glowing finish. The buildable formula covers everything from dark circles to redness and blemishes. In five shades painstakingly developed to enhance, brighten, and—most importantly—completely disappear into the widest range of skin tones.
Benefits:  Buildable, Enhancing, Flexible, Nourishing"
Ok, let's parse this baby to its bare bones based on its ingredients:
| Substantiated | Claims | What's the Problem? |
| --- | --- | --- |
| 👍🏻 | Elastic micro waxes - Moves with your face | None |
| 👍🏻 | Nourishing oils - Dewy, glowing finish | None |
| 👍🏻 | Covers - Dark circles, redness, and blemishes | None |
| 👍🏻 | Buildable, enhancing, flexible, nourishing | None |
UPDATED CLAIMS: "A concealer inspired by skin. The buildable formula covers everything from dark circles to blemishes and redness, with a dewy, glowy, undetectable finish. How? Adaptable mineral pigments blend into skin seamlessly for natural-looking coverage, while elastic micro waxes move with your face instead of caking on top of it. In 12 shades developed to enhance, brighten, and—most importantly—disappear into a wide range of skin tones."
Although the shade range and page is slightly different, the claims themselves are relatively similar to the original.
SKIN TYPE & USE
Glossier does not indicate the best skin type for this product.  However, due to its dewy consistency, it would work for dry skin.  And since I had no issues, I would vouch for it working for my oily skin folks out there.  The Glossier Stretch Concealer may be applied per the following:
Warm up Stretch Concealer by gently swirling fingertips over the surface layer of the opened pot, picking up a thin layer of product as you go.
Gently pat onto moisturized skin, dabbing outward to blend.
Need more coverage? Keep building the product with additional layers, or try with our Perfecting Skin Tint.
Set with a light dust of Wowder, which gives skin a matte finish and extends the life of your makeup.
THE GOOD & THE BAD
If we look at the first (generally most abundant) ingredient listed as being Octyldodecanol.  And we understand that its primary function is a carrier or vehicle for the other active ingredients listed.  Then I question (just a tad) -- why this was generally selected. In the end, it is about choice, cost, and stability.  What may be a natural carrier ingredient option such as coconut oil or olive oil -- might be too oily when we evaluate the complete formulation.  
Yes, there are emulsifiers.  Yes, there are preservatives.  Yes, there are unpublished science-based ingredients.  But Glossier never stated that they were a by the book "natural" beauty brand.  There are options out there though - I've certainly found a wide selection that seems to be growing.
Overall - it is always good to question all ingredients listed.  Am I right?!
And outside of the obvious insurgent of oxides (titanium dioxide and iron oxides) -- I could not find any discernible reason to hate (or dislike) this product.  If we assume that the amount of titanium dioxide and iron oxides are relatively low compared to the total formulation – as it is listed at the very end of the ingredient list – then perhaps the concerning toxic effects mentioned above are negligible.  
THE UGLY (PRICE)
Glossier Stretch Concealer ($18)
DO I NEED THIS?
I started by using the Glossier Stretch Concealer here and there.  There is a definite learning curve to reaping the benefits of this product based on its consistency and how you apply it to your skin.  But you quickly fall for this product and its effortless application to the skin.  
It's not for everybody, though,  due to its pot packaging and "light" coverage.  The other issue is Glossier's limited shade range - with only five available currently!  That can be a problem if you don't fall into any of the 5 shades.  
UPDATED SHADES:  Glossier has expanded its color range from 5 shades to 12 shades.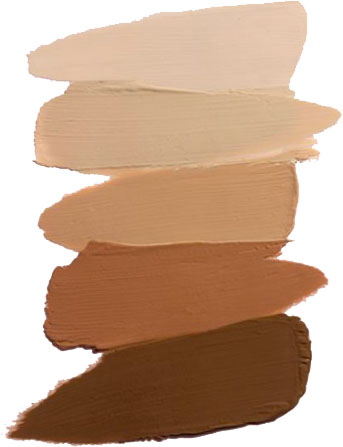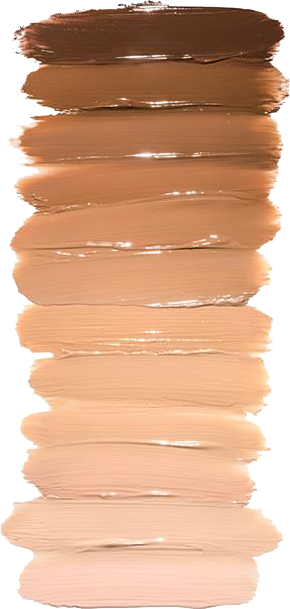 It is literally (in my opinion) - your skin, but better.  
Update:  Since my initial purchase, I have yet to hit pan even with daily use!  However, I purchased one of the newly expanded shades (G9 as compared to Medium) and the creamy consistency is still the same.
DUPES
HOW TO MAXIMIZE THE BENEFITS?
I first started by using this concealer as you would traditionally.  Then as I slowly adapted to its pliable consistency -- I found myself using it more as a tinted moisturizer for those days I don't care enough to reach for my medium to heavier coverage foundations.  Truth be told - I am a lover of lightweight feeling products.  Nothing is worse than caking on a product when you are prone to oily skin!  This does it for me when I don't want to be fussy about my skin and makeup!
ARE THE CLAIMS BACKED BY SCIENCE?
Outside of two ingredients (Dipentaerythrityl Hexahydroxystearate/Hexastearate/Hexarosinate and VP/Hexadecene Copolymer) -- all of the Glossier Stretch Concealer listed components were easily researched.  These two ingredients, however, had manufacturer information that did not have available references or science-based resources (at the time of this review) outside of their internally performed lab claims and statements.   
Those two aside -- all other ingredients had supported evidence to either enhance, nourish, provide flexibility, and build coverage on the skin.
All in all, if you are in search of a buildable concealer that can also be used as a lightweight on-the-go foundation -- then this might be worth a try.  
Until my next review!